Gifts of Retirement Assets
Give More for Less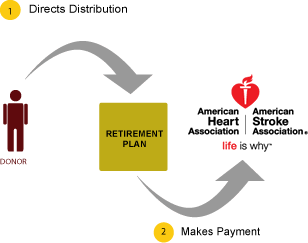 How it works
| | |
| --- | --- |
| | You name American Heart Association as the beneficiary of your IRA, 401(k) or other qualified plan. |
| | Any residual left in your plan when you die passes to the American Heart Association tax-free. |
| | New legislation gives donors aged 70½ and older an opportunity to direct lifetime distributions from their IRAs to the American Heart Association without incurring income tax liability on the withdrawal. The provision will be in effect through 2011. Distributions to the American Heart Association plus other charitable beneficiaries can total $100,000 per year, and must be made outright – they cannot fund a life-income gift. Just email us and we'll be happy to give you more information about this new charitable incentive. |
Benefits
You can escape both income AND estate tax levied on the residual left in your retirement account by leaving it to the American Heart Association.
You can continue to take withdrawals during your lifetime.
You can change your beneficiary if your circumstances change.
You can elect to leave retirement plan assets to the American Heart Association through your will or revocable trust instead.
You can have the satisfaction of knowing that your hard-earned retirement assets will support the American Heart Association when you are gone.


For more information
Email us, complete the personal illustration form, or contact the planned giving representative in your area so that we can assist you through every step of the process.